We interviewed artist Mike Ratera about his work on the It Was Metal comic anthology, for which he drew a short story based on "Els Segadors (The Reapers)", and about music and comics in general. Inteview disponible en català a continuació. Inteview disponible en español a continuación.

(Haven't pre-ordered the It Was Metal comic anthology or album yet? Please support the project on Kickstarter by clicking HERE.)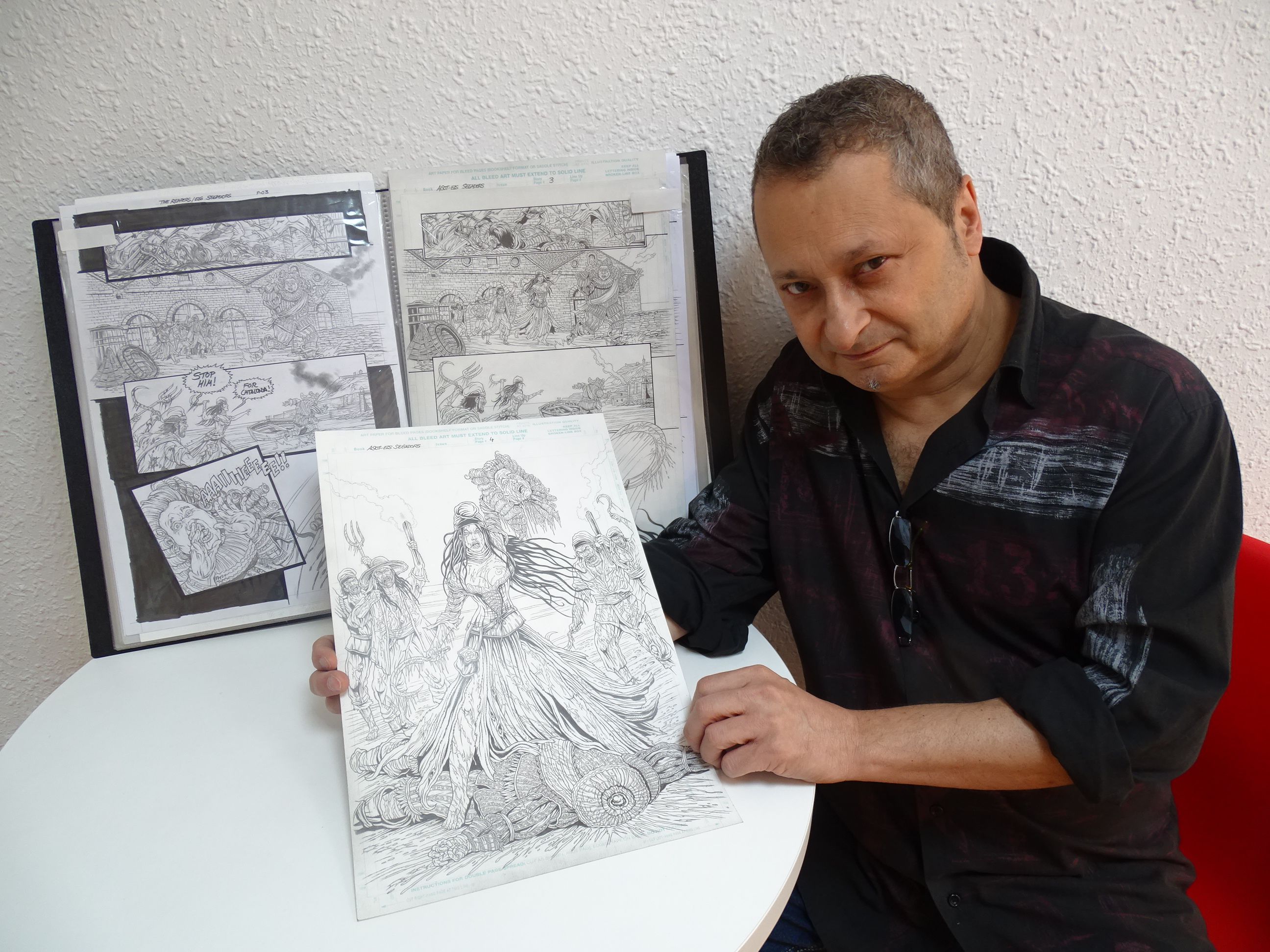 ENGLISH VERSION (DESCOBREIX LA VERSIÓ CATALANA) (DESPLAZAR ABAJO PARA LA VERSIÓN EN ESPAÑOL)
ASOT: What are your thoughts on the connection between music and comics? 
Mike: Beyond the cultural parallelism between comics and rock (whose paths cross constantly) I have always believed in a great connection between the narrative and visual rhythm of a comic and the rhythm of a musical composition. Although the comics apparently lack sound, I always feel that visual narration has a rhythm, which could perfectly turn into music. It could be a harmonious or dissonant rhythm, or lyrical, or epic, or violent rhythm... depending on the scene we are drawing. In the same way, teamwork in comics, between the drawing artist and the colorist (for example) is similar to the work between musicians, who must harmonize by playing together so that the group works well. Definitely, comics have music. And everyone has their own music. 
ASOT: What's your favorite band? 
Mike: I'm almost as old as rock and roll (laughs). In my youth, back in the 70s, I was crazy about the first metal bands, what was then called "hard rock". I was a fan of the British groups of that time: Black Sabbath, Led Zeppelin and especially Deep Purple. Then came many other European metal bands: UFO, Judas Priest, Motörhead, Iron Maiden, and also American bands like Van Halen and Metallica. I'm a fan of all of them. And I also really like the British bands from the first punk era, like The Clash. But in my heart always will be Deep Purple and Motörhead in the first place, because their songs marked my youth. 
ASOT: What was the first concert you attended? 
Mike: Now is when I'm going to disappoint the heavy metal fans (laughs). If I remember correctly the first band I saw live was Blondie, in "Canet Rock" a very famous festival at that time in Catalonia, Woodstock style. That would be around 1976 or 1977 and I remember that I was very close to Debbie Harry. Better not tell you what we smoked then (again laughs). 
ASOT: What was the last concert you attended? 
Mike: It's been a long, long time since I've been going to concerts. That's because my artistic work occupies almost all my time. I listen to music from my computer while I draw in my studio. But at least I can say that my last concert was to see AC/DC in Barcelona (although it was a very long time ago, in a Galaxy far far away...). But of course I hope I can go to an A Sound of Thunder concert the next time they come to Catalonia! 
ASOT: Do you play an instrument, and have you ever been in a band? 
Mike: Although my grandmother told me that I have the hands of a pianist, I never dared to take that step. Musically I am disastrous. So I think I did very well to dedicate myself to something else, for the benefit of music (laughs). 
ASOT: If you had your own band, what kind of music would it play, and what would it be called? 
Mike: What a question, by Crom & the Seven Kingdoms and by all the gods of the Avernus !! Of course, it would be something hellish ... something between Viking Metal, Thrash Metal, with some name taken from H.P. Lovecraft or one of my old comics, when I was into horror-gore. For example, it could be called "HAMRAMR" (it's the title of one of my old horror series, in fact ... hahahahahaha) 
ASOT: When did you first hear A Sound of Thunder's version "Els Segadors"? And how did you get to do comics inspired by this song? 
Mike: I think now is when it's time to get serious. I do not want to get too involved in the political issue here. But I am Catalan, and I also believe that all the peoples of the world have the right to decide their destiny. So I am a supporter of the independence of Catalonia, outside of Spain. Well, on October 1 we organized a referendum in Catalonia, which Spain tried to repress by all means, violence included. I lived that day in a very intense way, with very hard moments too. And I remember that a few days later, on October 4, I heard A Sound of Thunder's version of "Els Segadors" for the first time on the internet. I do not get excited easily; those who know me know it. But after all I had lived the previous days, when I heard Nina's voice when halfway through the song she started singing in Catalan ... well, I could not help spilling some tears, while listening to her powerful voice. I will always remember the emotion I felt at that moment. What did I do then? I searched the internet and social media, until I found A Sound of Thunder and especially Nina Osegueda. Immediately I discovered that she is of Catalan origin. There was the explanation of why a Washington metal band had made this song. I did not think twice, I wrote a private message to Nina explaining what I had felt when listening to the song and that I was a Catalan comic artist and that I would be available for ASOT if in the future they needed something from me. I think Nina took about 5 minutes to answer me by saying something like "maybe we have something for you ..." and "Could you make some comic pages for us?" Nina told me that she would like the Els Segadors comic book to be made by a Catalan artist, so we quickly agreed. I also liked that she wanted an adaptation with historical background because initially I was going to propose a version with demons and zombies or something crazy (laughs). A few days later I was already involved with Nina and Josh conspiring together to see how we could do this. This is how we have come to do this first collaboration together, for "It Was Metal". 
ASOT: The song "Els Segadors" is a metal version of the current anthem of Catalonia. What is the song's historical origin? 
Mike: The current lyrics of the Catalan anthem "Els Segadors" were written in 1899, but its origin is much older. The lyrics of the original song are a call to defend the freedom of the land. It includes the events that took place during the so-called "Corpus de sangre", a revolt carried out by around a thousand reapers in Barcelona, on June 7, 1640, which culminated in the death of the Viceroy. This uprising was the beginning of the uprising in Catalonia in 1640 or War of the Reapers (1640-1652). This is the historical moment in which we have placed the action in our Els Segadors comic story, which show at the end and in an epic way, the death of the Viceroy at the hands of our imaginary character the "reaper woman". 
ASOT: What comes to mind when you think of your work on the Els Segadors comic? (Any particular challenges, favorite aspects, changes you made, etc.?) 
Mike: It has been a short, but intense job. Although the story is only 4 pages, I wanted to do exhaustive research about the costumes of civilians and military in Catalonia in 1640. Although I always like to bring a fantastic touch to the appearance of the characters. For example, the dress of the Viceroy is very exaggerated, to differentiate it from soldiers or reapers. I've done a few sketches for the Reaper Woman, to fully define her appearance. And I've done some hyper-worked storyboards for the pages, following the script of my friend Marc Gras. This is where I should talk about my team in this work: Marc Gras was a student of mine in a famous school of comics in Barcelona where I have been working for many years: Escola Joso. Marc is a scriptwriter, comics artist and has also been an editor. I thought of him for the script when Josh and Nina asked me to adapt their song in comics. And the colorist on the story is Diego L. Parada, another ex-Padawan of mine, who has already become a great colourist, with whom I also work for the French market. We exchanged a lot of ideas among ourselves about the composition of the pages, and the elements that had to be highlighted, as well as details for the intonation of the color in this story, which is something like the direction of photography in a film. It has also been a pleasure to share all those ideas with Nina and Josh. I remember very funny moments discussing certain details about our Reaper Woman. (ASOT: Mike is talking about nipples!) 
ASOT: When working on the story, were you inspired by any particular comics creators, stories or characters? What references of your own did you bring to the story? 
Mike: I have an artistic trajectory of more than 30 years. So I have what I think is my own style and my own way of doing things. But when I'm working on a project that I really like, I'm deeply involved. For example, in Els Segadors there was no place for too many main characters, due to the short story format and historical references. But I came up with the idea of focusing the  attention on a character, who could lead the reader from one image to another. And since this character was going to be a reaper, I thought it would work very well if I were a woman. A revolutionary woman, a bit like the woman with the naked breast of Delacroix's famous painting "Liberty Leading the People" of 1830. And whose clothes were also all in red, and covered with blood and with one or two sickles in her hands. That would highlight a lot, and I also thought it important that the character was a woman ... maybe because Nina is the singer of a heavy metal band! And here is where I present another of my usual collaborators: the Belgian model Seffy Moon, with whom I have done many illustrations and covers. When I proposed to use her as the basis for our "Reaper Woman", she was delighted to participate! 
ASOT: What is your latest project that you would like to promote? 
Mike: "Stalag X" has just been published in the United States with The Vault as editor. This is a graphic novel Space Opera genre, which I've drawn whole and  where I'm co-author, along with two great American writers: Kevin J. Anderson (writer of best-selling novels, including all the latest in the saga "Dune") and Steven L. Sears (screenwriter of TV series, including "Xena, Warrior Princess" among others). It is quite possible that we do a continuation "Stalag X" or maybe a spin-off series. We'll see ! 
By the way: thank you very much for this interview! It has been a pleasure ! Long life to ASOT! VISCA CATALUNYA LLIURE !! 
Mike's web & social media links: 
- Mike Ratera Blog: http://mikeratera.blogspot.com.es/ 
- Mike Ratera facebook: https://www.facebook.com/Mike-Ratera-292038944155549/ 
 - Seffy Moon: https://seffymoon.jimdo.com/ 
- Stalag X: http://stalag-x.com/ 
- Escola Joso: http://escolajoso.es/ 
...........................................................  
VERSIÓ CATALANA 
ASOT: Què penses sobre la connexió entre la música i els còmics?  
Mike: Més enllà del paral·lelisme cultural entre els còmics i el rock (els camins es creuen constantment) sempre he cregut en una gran connexió entre el ritme narratiu i visual d'un còmics i el ritme d'una composició musical. Tot i que els còmics aparentment no tenen so, jo sempre sento que la narració visual té un ritme, que podria perfectament convertir-se en música. Vaig poder ser un ritme harmoniós o dissonant, o líric, o èpic, o violent ... segons sigui l'escena que estem dibuixant. De la mateixa manera, el treball en equip en els còmics, entre el dibuixant i el colorista (per exemple) s'assembla a la feina entre músics, que han harmonitzar tocant junts perquè el conjunt funcioni bé. Definitivament, els còmics tenen música. I cada un té la seva pròpia música.  
ASOT: Quina és la teva banda preferida?  
Mike:  Jo sóc gairebé tan vell com el rock and roll (rialles). En la meva joventut, allà pels 70s, em tornava boig per les primeres bandes de metall, el que llavors es deia Hard Rock. Jo era molt fan dels grups britànics d'aquella època: Black Sabbath, Led Zeppelin i sobretot Deep Purple. Després van arribar altres moltes bandes de metall europees: UFO, Judes Priest, Motörhead, Iron Maiden, i també bandes nord-americanes com Van Halen i Metallica. Sóc fan de tots ells. I també m'agraden molt les bandes britàniques de la primera època del punk, com The Clash. Però en el meu cor sempre estaran Deep Purple i Motörhead en primer lloc, perquè les seves cançons van marcar la meva joventut.  
ASOT: Quin va ser el primer concert al qual vas assistir?  
Mike: Ara és quan decebré als fans del heavy metal (rialles). Si no recordo malament la primera banda que vaig veure en directe va ser Blondie, en el "Canet Rock" un festival molt famós en aquella època a Catalunya, al més pur estil Woodstock. Això seria cap a 1976 o 1977 i recordo que jo estava molt a prop de la Debbie Harry. Millor no us dic el que fumàvem llavors (més rialles).  
ASOT: El últim concert a has assistit?  
Mike: Fa molt, molt de temps que no vaig a concerts. Això es deu al fet que el meu treball artístic ocupa gairebé tot el meu temps. La música l'escolto des del meu ordinador mentre dibuix a la taula del costat, al meu estudi. Però almenys puc dir que el meu últim concert va ser per veure els AC/DC a Barcelona (encara que va ser fa mooolt temps, en una galàxia molt llunyana ...). Però, és clar, espero poder anar al concert dels A Sound of Thunder la propera vegada que vinguin a Catalunya!  
ASOT: ¿Tocas un instrument i alguna vegada has estat en una banda?  
Mike: Encara que la meva àvia em deia que tinc les mans d'un pianista, mai em vaig atrevir a donar aquest pas. Musicalment sóc un desastre. Així que crec que vaig fer molt bé en dedicar-me a una altra cosa, en benefici de la Música (rialles).  
ASOT: Si tinguessis la teva pròpia banda, quin tipus de música tocaria i com es diria?  
Mike: Quina pregunta, per Crom & els Set Regnes i per tots els déus de l'Avern !! per descomptat, sería una cosa infernal ... alguna cosa entre Viking Metall, Trash Metall, amb algun nom tret de H.P. Lovecraft o d'un dels meus antics còmics, de quan jo feia terror-gore. Per exemple podia dir-se "HAMRAMR" (és el títol d'una de les meves sèries de terror, en efecte ... jajajajajaja).  
ASOT: ¿ Quan vas escoltar per primera vegada "Els Segadors" en la versió dels A Sound of Thunder? I com vas arribar a fer el còmic inspirat en aquesta cançó?  
Mike:  Crec que ara és quan és hora de posar-se seriós. No vull involucrar-me massa en el tema polític aquí. Però sóc català, i també crec que tots els pobles del món tenen dret a decidir el seu destí. Així que sóc partidari de la independència de Catalunya, fora d'Espanya. Bé, l'1 d'octubre vam organitzar un referèndum a Catalunya que Espanya va intentar reprimir per tots els mitjans, inclosa la violència. Vaig viure aquell dia d'una manera molt intensa, amb alguns moments molt durs també. I recordo que uns dies després, el 4 d'octubre, vaig escoltar "Els Segadors" a la versió dels A Sound of Thunder per primera vegada a internet. Jo no m'emociono fàcilment, els que em coneixen ho saben. Però després de tot el viscut els dies anteriors, en escoltar la veu de Nina quan cap a meitat de la cançó ella es llança a cantar en català ... bé, no vaig poder evitar vessar algunes llàgrimes, mentre escoltava la seva poderosa veu. Sempre recordaré l'emoció que vaig sentir en aquell moment. Què vaig fer llavors? vaig buscar a internet i a les xarxes socials, fins a donar amb els A Sound of Thunder i amb la Nina Osegueda. De seguida vaig descobrir que ella és d'origen català. Allà hi havia l'explicació de per què una banda de metall de Washington havia fet aquesta cançó. No m'ho vaig pensar dues vegades, vaig escriure un missatge privat a la Nina explicandole el que jo havia sentit en escoltar la cançó i que jo era un artista de còmics català i que estaria disponible per ASOT si en el futur ells necessitaven alguna cosa de mi. Crec que la Nina va trigar uns 5 minuts a respondre'mi dient-me alguna cosa així com "potser tenim alguna cosa per a tu ..." i "Podries fer unes pàgines de còmics per a nosaltres?". La Nina em va explicar que a ella li agradaria que el còmic d'Els Segadors ho fes un artista català, així que ens vam posar ràpidament d'acord. A més em va agradar molt que ella voldria una adaptació amb rerefons històric perquè inicialment jo anava a proposar-li una versió amb dimonis i zombies o alguna cosa així de demencial (rialles). Als pocs dies jo ja estava embolicat amb Nina i amb Josh conspirant entre tots per veure com podíem fer això. Així és com hem arribat a fer aquesta primera col·laboració junts, per "It Was Metall".  
ASOT: La cançó "Els Segadors" és la versió metall de l'actual himne de Catalunya ... Però quin és el seu origen històric?  
Mike:  La lletra actual de l'himne de Catalunya "Els Segadors" va ser escrita el 1899, però el seu origen és molt més antic. La lletra de la cançó original és una crida en defensa de la llibertat de la terra. Recull els fets esdevinguts durant l'anomenat "Corpus de sang", una revolta protagonitzada per al voltant d'un miler de segadors a Barcelona, el 7 de juny de 1640 i que va culminar amb la mort del Virrey. Aquest aixecament va ser l'inici de la revolta de Catalunya de 1640 o Guerra dels Segadors (1640-1652). Aquest és el moment històric en què hem situat l'acció en les nostres pàgines Els Segadors, que mostren al final i de manera èpica, la mort del Virrei a mans del nostre personatge imaginari la "reaper woman".  
ASOT: Què et ve al cap quan penses en el teu treball (la teva història en It Was Metal)? (Qualsevol desafiament particular, aspectes favorits, canvis que heu fet, etc.)  
Mike: Ha estat un treball curt, però intens. Tot i que es tractava de fer la història només en 4 pàgines, he volgut fer una exhaustiva investigació sobre el vestuari de civils i militars a Catalunya, en 1640. Encara que sempre m'agrada aportar un toc fantàstic a l'aspecte dels personatges. Per exemple, el vestuari del Virrei és molt exagerat, per diferenciar-ho dels soldats o dels segadors. He fet uns quants esbossos per a la Reaper Woman, per definir totalment el seu aspecte. I he fet uns storyboards hiper-treballats per les pàgines, seguint el guió del meu amic Marc Gras. Aquí és on he de parlar del meu equip en aquest treball: Marc Gras va ser alumne meu en una famosa escola de Còmics de Barcelona on treballo des de fa molts anys: Escola Joso. Marc és guionista, dibuixant i també ha estat editor. De seguida vaig pensar en ell per al guió, quan Josh i Nina em van plantejar l'adaptació de la seva cançó en còmics. I el color de les pàgines és de Diego L. Parada, un altre ex-padawan meu, que ja s'ha convertit en un gran coloristes, amb qui també treballo per al mercat francès. Vam intercanviar moltes idees entre nosaltres sobre la composició de les pàgines, i els elements que calia destacar, així com detalls per l'entonació del color en aquesta història, que és  una cosa que s'assembla a la direcció de fotografia en una pel·lícula. A més ha estat un plaer compartir totes aquestes idees amb Nina i amb Josh, recordo moments molt divertits discutint certs detalls sobre la nostra Reaper Woman.  
ASOT: Quan vas treballar (la teva història en It Was Metall), ¿et van inspirar els creadors de còmics, històries o personatges en particular? Què referències teves has aportat a la història?  
Mike: Jo tinc una trajectòria artística de més de 30 anys. Per tant tinc el que crec que és un estil propi i la meva pròpia manera de fer les coses. Però quan estic treballant en un projecte que realment m'agrada, m'implico a fons.Per exemple, a Els Segadors no hi havia lloc per a massa personatges protagonistes, a causa del format d'història curta i a les referències històriques. Però a mí se m'acudí la idea de centrar l'atenció en un personatge que pogués conduir al lector d'una imatge a una altra. I com aquest personatge anava a ser un segador, vaig pensar que funcionaria molt bé si fos una dona. Una dona revolucionària, una mica com la dona del pit nu del cèlebre quadre de Delacroix "La Llibertat guiant al Poble" de 1830. I amb la roba tota en vermell, i coberta de sang i amb una o dues falçs a les mans. Això destacaria molt, ia més em semblava important que el personatge fos una dona... potser perquè la Nina és la cantant d'un grup heavy metal! I aquí és on presento a un altre dels meus col·laboradors habituals: la model belga Seffy Moon, amb qui he fet molts treballs d'il·lustració i portades. Quan li vaig proposar inspirar-me d'ella per a la nostra "Reaper Woman", ella va estar encantada de participar!  
ASOT: Quin és el teu últim projecte que t´agradaria promocionar?  
Mike: "Stalag X" acaba de publicar-se en USA amb The Vault com a editor. Es tracta d'una novel·la gràfica de gènere Space Opera, que he dibuixat sencera i on sóc coautor, al costat de dos grans escriptors nord-americans: Kevin J. Anderson (escriptor de novel·les best-seller, entre elles tot l'últim de la saga "Dune ") i Steven L. Sears (guionista de sèries de TV, entre elles" Xena, Warrior Princess "entre d'altres). És bastant possible que fem una continuació "Stalag X" o potser una sèrie spin-off. Ja veurem!  
Per cert: moltes gràcies per aquesta entrevista! Ha estat un plaer! Llarga vida als ASOT! VISCA CATALUNYA LLIURE !!  
Els enllaços de web i xarxes socials de Mike:  
- Mike Ratera Blog: http://mikeratera.blogspot.com.es/  
- Mike Ratera facebook: https://www.facebook.com/Mike-Ratera-292038944155549/  
- Seffy Moon: https://seffymoon.jimdo.com/  
- Stalag X: http://stalag-x.com/  
- Escola Joso: http://escolajoso.es/
........................................................... 
VERSION EN ESPAÑOL
ASOT: ¿Qué piensas acerca de la conexión entre la música y los cómics? 
Mike: Más allá del paralelismo cultural entre los cómics y el rock (cuyos caminos se cruzan constantemente) siempre he creído en una gran conexión entre el ritmo narrativo y visual de un comics y el ritmo de una composición musical. Aunque los comics aparentemente carecen de sonido, yo siempre siento que la narración visual tiene un ritmo, que podría perfectamente convertirse en música. Pude ser un ritmo harmonioso o disonante, o lírico, o épico, o violento...según sea la escena que estamos dibujando. Del mismo modo, el trabajo en equipo en los cómics, entre el dibujante y el colorista (por ejemplo) se parece al trabajo entre músicos, que deben armonizar tocando juntos para que el conjunto funcione bien. Definitivamente, los cómics tienen música. Y cada uno tiene su propia música. 
ASOT: ¿Cual es tu banda favorita? 
Mike: Yo soy casi tan viejo como el rock and roll (risas). En mi juventud, allá por los 70s, me volvían loco las primeras bandas de metal, lo que entonces se llamaba Hard Rock. Yo era muy fan de los grupos británicos de aquella época: Black Sabbath, Led Zeppelin y sobre todo Deep Purple. Luego llegaron otros muchas bandas de metal europeas: UFO, Judas Priest, Motörhead, Iron Maiden, y también bandas norteamericanas como Van halen y Metallica. Soy fan de todos ellos. Y también me gustan mucho las bandas británicas de la primera época del punk, como The Clash. Pero en mi corazón siempre estarán Deep Purple y Motörhead en primer lugar, porque sus canciones marcaron mi juventud. 
ASOT: ¿Primer concierto al que asististe? 
Mike: Ahora es cuando voy a decepcionar a los fans del heavy metal (risas). Si no recuerdo mal la primera banda que vi en directo fue Blondie, en el "Canet Rock" un festival muy famoso en aquella época en Cataluña, al más puro estilo Woodstock. Eso sería hacia 1976 o 1977 y recuerdo que yo estaba muy cerca de Debbie Harry. Mejor no os digo lo que fumábamos entonces (más risas). 
ASOT: ¿El último concierto al que asististe? 
Mike: Hace mucho, mucho tiempo que no voy a conciertos. Eso se debe a que mi trabajo artístico ocupa casi todo mi tiempo. La música la escucho desde mi ordenador mientras dibujo en la mesa de al lado, en mi estudio. Pero al menos puedo decir que mi último concierto fue para ver a AC/DC en Barcelona (aunque fue hace muuucho tiempo, en una galaxia muy lejana...). Pero, por supuesto, espero poder ir al concierto de A Sound of Thunder la próxima vez que vengan a Cataluña ! 
ASOT: ¿Tocas un instrumento y alguna vez has estado en una banda? 
Mike: Aunque mi abuela me decía que tengo las manos de un pianista, nunca me atreví a dar ese paso. Musicalmente soy un desastre. Así que creo que hice muy bien en dedicarme a otra cosa, en beneficio de la Música (risas). 
ASOT: Si tuvieras tu propia banda, ¿qué tipo de música tocaría y cómo se llamaría? 
Mike: ¡Menuda pregunta, por Crom & los Siete Reinos y por todos los dioses del Averno !! por supuesto, sería algo infernal... algo entre Viking Metal, Trash Metal, con algún nombre sacado de H.P. Lovecraft o de uno de mis antiguos cómics, de cuando yo hacía terror-gore. Por ejemplo podía llamarse "HAMRAMR" (es el título de una de mis series de terror, en efecto...jajajajajaja ) 
ASOT: ¿ Cuándo escuchaste por primera vez "Els Segadors" en la versión de A Sound of Thunder ? ¿ Y cómo llegaste a hacer el cómic inspirado en ésta canción ? 
Mike:  Creo que ahora es cuando es hora de ponerse serio. No quiero involucrarme demasiado en el tema político aquí. Pero soy catalán, y también creo que todos los pueblos del mundo tienen derecho a decidir su destino. Así que soy partidario de la independencia de Cataluña, fuera de España. Bien, el 1 de octubre organizamos un referéndum en Cataluña que España intentó reprimir por todos los medios, incluida la violencia. Viví ese día de una manera muy intensa, con algunos momentos muy duros también. Y recuerdo que unos días después, el 4 de octubre, escuché "Els Segadors" en la versión de los A Sound of Thunder por primera vez en internet. Yo no me emociono fácilmente, quienes me conocen lo saben. Pero después de todo lo vivido los días anteriores, al escuchar la voz de Nina cuando hacia mitad de la canción ella se lanza a cantar en catalán... bien, no pude evitar derramar algunas lágrimas, mientras escuchaba su poderosa voz. Siempre recordaré la emoción que sentí en ése momento. ¿ Qué hice entonces ? busqué en internet y en las redes sociales, hasta dar con los A Sound of Thunder y con Nina Osegueda. Enseguida descubrí que ella es de origen catalán. Allí estaba la explicación de por qué una banda de metal de Washington había hecho ésta canción. No me lo pensé dos veces, escribí un mensaje privado a Nina explicándole lo que yo había sentido al escuchar la canción y que yo era un artista de comics catalán y que estaría disponible para ASOT si en el futuro ellos necesitaban algo de mí. Creo que Nina tardó unos 5 minutos en responderme diciéndome algo así como "tal vez tenemos algo para ti..." y "¿Podrías hacer unas páginas de cómics para nosotros ?" 
Nina me contó que a ella le gustaría que el cómic Els Segadors lo hiciera un artista catalán, así que nos pusimos rápidamente de acuerdo. Además me gustó mucho que ella quisiera una adaptación con trasfondo histórico porque inicialmente yo iba a proponerle una versión con demonios y zombies o algo así de demencial (risas). A los pocos días yo ya estaba liado con Nina y con Josh conspirando entre todos para ver cómo podíamos hacer esto. Así es como hemos llegado a hacer ésta primera colaboración juntos, para "It Was Metal". 
ASOT: La canción "Els Segadors" es la versión metal del actual himno de Cataluña... ¿ Pero cuál es su origen histórico ? 
Mike: La letra actual del himno de Cataluña "Els Segadors" fué escrita en 1899, pero su origen es mucho más antiguo. La letra de la canción original es un llamamiento en defensa de la libertad de la tierra. Recoge los hechos acaecidos durante el llamado "Corpus de sangre", una revuelta protagonizada por alrededor de un millar de segadores en Barcelona, el 7 de junio de 1640 y que culminó con la muerte del Virrey. Este levantamiento fue el inicio de la sublevación de Cataluña de 1640 o Guerra de los Segadores (1640-1652). Éste es el momento histórico en el que hemos situado la acción en nuestras páginas Els Segadors, que muestran al final y de modo épico, la muerte del Virrey a manos de nuestro personaje imaginario la "reaper woman". 
ASOT: ¿Qué te viene a la mente cuando piensas en tu trabajo (tu historia en It Was Metal)? (Cualquier desafío particular, aspectos favoritos, cambios que haya realizado, etc.) 
Mike: Ha sido un trabajo corto, pero intenso. Aunque se trataba de hacer la historia solamente en 4 páginas, he querido hacer una exahustiva investigación acerca del vestuario de civiles y militares en Cataluña, en 1640. Aunque siempre me gusta aportar un toque fantástico al aspecto de los personajes. Por ejemplo, el vestuario del Virrey es muy exagerado, para diferenciarlo de los soldados o de los segadores. He hecho unos cuantos bocetos para la Reaper Woman, para definir totalmente su aspecto. Y he hecho unos storyboards hiper-trabajados para las páginas, siguiendo el guión de mi amigo Marc Gras. Aquí es dónde debo hablar de mi equipo en éste trabajo: Marc Gras fue alumno mío en una famosa escuela de Cómics de Barcelona donde trabajo desde hace muchos años: Escola Joso. Marc es guionista, dibujante y también ha sido editor. Enseguida pensé en él para el guión, cuando Josh y Nina me plantearon la adaptación de su canción en comics. Y el color de las páginas es de Diego L. Parada, otro ex-padawan mío, que ya se ha convertido en un gran coloristas, con quién también trabajo para el mercado francés. Intercambiamos bastantes ideas entre nosotros acerca de la composición de las páginas, y los elementos que había que destacar, así como detalles para la entonación del color en ésta historia, que es algo así como la dirección de fotografía en una película. Además ha sido un placer compartir todas esas ideas con Nina y con Josh, recuerdo momentos muy divertidos discutiendo ciertos detalles acerca de nuestra Reaper Woman. 
ASOT: Cuando trabajaste (tu historia en It Was Metal), ¿te inspiraron los creadores de cómics, historias o personajes en particular? ¿Qué referencias tuyas aportaste a la historia? 
Mike: Yo tengo una trayectoria artística de más de 30 años. Por tanto tengo lo que creo que es un estilo propio y mi propia manera de hacer las cosas. Pero cuando estoy trabajando en un proyecto que realmente me gusta, me implico a fondo. Por ejemplo, en Els Segadors no había espacio para demasiados personajes protagonistas, debido al formato de historia corta y a las referencias históricas. Pero a mí se me ocurrió la idea de centrar la atención en un personaje, que pudiese conducir al lector de una imagen a otra. Y como éste personaje iba a ser un segador, pensé que funcionaría muy bien si fuese una mujer. Una mujer revolucionaria, un poco como la mujer del pecho desnudo del célebre cuadro de Delacroix "La Libertad guiando al Pueblo" de 1830. Y cuya ropa fuese además toda roja, y cubierta de sangre y con una o dos hoces en sus manos. Eso destacaría mucho, y además me parecía importante que el personaje fuese una mujer...tal vez porque Nina es la cantante de un grupo heavy metal ! Y aquí es donde presento a otro de mis colaboradores habituales: la modelo belga Seffy Moon, con quién he hecho muchos trabajos de ilustración y portadas. Cuando le propuse inspirarme de ella para nuestra "Reaper Woman", ella estuvo encantada de participar ! 
ASOT: ¿Cuál es su último proyecto que le gustaría promocionar? 
Mike: "Stalag X" acaba de publicarse en USA con The Vault como editor. Se trata de una novela gráfica de género Space Opera,que he dibujado entera y donde soy co-autor  junto a dos grandes escritores norteamericanos: Kevin J. Anderson (escritor de novelas best seller, entre ellas todo lo último de la saga "Dune") y Steven L. Sears (guionista de series de TV, entre ellas "Xena, la Princesa Guerrera" entre otras). Es bastante posible que hagamos una continuación "Stalag X" o tal vez una serie spin-off. Ya veremos ! 
Por cierto: ¡muchas gracias por esta entrevista! Ha sido un placer ! Larga vida a los ASOT! VISCA CATALUNYA LLIURE !! 
Los enlaces de web y redes sociales de Mike Ratera: 
- Mike Ratera Blog: http://mikeratera.blogspot.com.es/ 
- Mike Ratera facebook:https://www.facebook.com/Mike-Ratera-292038944155549/ 
- Seffy Moon: https://seffymoon.jimdo.com/ 
- Stalag X: http://stalag-x.com/ 
- Escola Joso: http://escolajoso.es/